Does safe floor mean great volumen?
After taking a look at an RB's perspective on the run play segment, lets see what volumen is for our fantasy running back.
Part1:
So only having the rush attemps opportunities over the other running backs in the team does not necessarily means (fantasy) production (Gore, CEH, etc). The volumen also needs to be there. This is mostly determined with the general philosophy of the team. (Of course we could cherry pick from multipe other reasons.)
It is well known that weaker teams tend to pass more and have less offensive plays. In 2020 the Texans had the fewest offensive plays, 187 less then the Chargers, who had the most.
If we take the teams average rush attempts per game in 2020, we can see that the top 5 teams best RB was in the fantasy PPR top 10. (We only included player with more than 8 game played.) But even teams with the most run plays could be less fantasy relevant. That can suggest a running back by committee approach, where the opportunites were spread out even among the RBs in the team (Buccs, Rams, 49ers). In the top 10 there were two RB1s (Robinson, Montgomery) with less then 20 avarage team carries.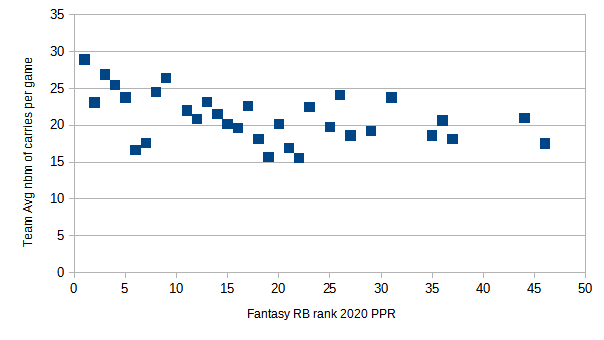 In todays NFL carries are just one attribute of an RB, but some backs are really involved in the passing game as well, so it is better to assess the carries and the receptions as well. Of course there are still run first RBs with huge volumens and fantasy productions (Henry, Chubb, Ingram, AP, etc), but since PPR started to take over in fantasy pass catching back are almost the crown jewels of the game. I would stay away from players who are only up on the field as RB to catch passes (Cohen, Hines, White), they are not really fantasy relevant. The best case are the dual threat RBs, who mainly run the ball, but are often used in the passing game (Kamara, CMC, Cook, Jones, Ekeler, Swift), they have upside written all over them.
So it is a really general statment, but true, touches can give a really solid floor for your RB in fantasy. There were potent options like Carson, Gurley, Conner, R. Jones, Sanders who hit a ceiling, had less the 15 average touches per game, so they were far from a fantasy RB1 production range for most of the season.
In the third and last part of this series will be about RedZone usage, and that will conclude our RB evaluation!
All the data is available in the table below, feel free to download, hope it helps in the preparation for 2021!
| PLAYER | Team | Fantasy RB Rank | Avg Touch per Game | Avg Catch per game | Avg Rush per Game | Avg Team Rush per game |
| --- | --- | --- | --- | --- | --- | --- |
| Dalvin Cook | Minnesota Vikings | 3 | 25.36 | 3.07 | 22.29 | 26.88 |
| Derrick Henry | Tennessee Titans | 1 | 24.63 | 1.00 | 23.63 | 28.94 |
| James Robinson | Jacksonville Jaguars | 7 | 20.64 | 3.50 | 17.14 | 17.56 |
| Josh Jacobs | Las Vegas Raiders | 8 | 20.40 | 2.20 | 18.20 | 24.50 |
| David Montgomery | Chicago Bears | 6 | 20.07 | 3.60 | 16.47 | 16.63 |
| Ezekiel Elliott | Dallas Cowboys | 11 | 19.73 | 3.47 | 16.27 | 22.00 |
| Myles Gaskin | Miami Dolphins | 27 | 18.30 | 4.10 | 14.20 | 18.63 |
| Alvin Kamara | New Orleans Saints | 2 | 17.93 | 5.47 | 12.47 | 23.06 |
| Jonathan Taylor | Indianapolis Colts | 4 | 17.87 | 2.40 | 15.47 | 25.50 |
| Aaron Jones | Green Bay Packers | 5 | 17.64 | 3.29 | 14.36 | 23.75 |
| Kenyan Drake | Arizona Cardinals | 12 | 17.60 | 1.67 | 15.93 | 20.88 |
| Nick Chubb | Cleveland Browns | 9 | 17.17 | 1.33 | 15.83 | 26.44 |
| Austin Ekeler | Los Angeles Chargers | 35 | 17.00 | 5.40 | 11.60 | 18.63 |
| Clyde Edwards-Helaire | Kansas City Chiefs | 22 | 16.69 | 2.77 | 13.92 | 15.56 |
| Melvin Gordon | Denver Broncos | 13 | 16.47 | 2.13 | 14.33 | 23.13 |
| Mike Davis | Carolina Panthers | 18 | 16.00 | 4.21 | 11.79 | 18.13 |
| Miles Sanders | Philadelphia Eagles | 21 | 15.92 | 2.25 | 13.67 | 16.88 |
| Ronald Jones II | Tampa Bay Buccaneers | 15 | 15.71 | 2.00 | 13.71 | 20.13 |
| James Conner | Pittsburgh Steelers | 25 | 15.54 | 2.54 | 13.00 | 19.75 |
| Todd Gurley | Atlanta Falcons | 23 | 15.50 | 1.64 | 13.86 | 22.50 |
| David Johnson | Houston Texans | 19 | 15.00 | 2.75 | 12.25 | 15.69 |
| Chris Carson | Seattle Seahawks | 16 | 14.83 | 3.08 | 11.75 | 19.63 |
| Kareem Hunt | Cleveland Browns | 10 | 14.75 | 2.38 | 12.38 | 26.44 |
| Antonio Gibson | Washington Football Team | 14 | 14.64 | 2.50 | 12.14 | 21.50 |
| Damien Harris | New England Patriots | 44 | 14.10 | 0.40 | 13.70 | 21.00 |
| Cam Akers | Los Angeles Rams | 42 | 14.09 | 0.91 | 13.18 | 23.75 |
| Frank Gore | New York Jets | 46 | 13.53 | 1.07 | 12.47 | 17.50 |
| D'Andre Swift | Detroit Lions | 20 | 13.25 | 3.75 | 9.50 | 20.19 |
| Jeff Wilson | San Francisco 49ers | 26 | 12.64 | 1.18 | 11.45 | 24.13 |
| Wayne Gallman | New York Giants | 29 | 12.46 | 1.15 | 11.31 | 19.25 |
| Devin Singletary | Buffalo Bills | 37 | 12.06 | 2.31 | 9.75 | 18.13 |
| Giovani Bernard | Cincinnati Bengals | 36 | 11.79 | 2.93 | 8.86 | 20.63 |
| Leonard Fournette | Tampa Bay Buccaneers | 39 | 11.45 | 2.73 | 8.73 | 20.13 |
| Joshua Kelley | Los Angeles Chargers | 63 | 11.36 | 1.64 | 9.73 | 18.63 |
| Phillip Lindsay | Denver Broncos | 61 | 11.36 | 0.64 | 10.73 | 23.13 |
| Latavius Murray | New Orleans Saints | 32 | 11.07 | 1.33 | 9.73 | 23.06 |
| J.D. McKissic | Washington Football Team | 34 | 11.00 | 5.29 | 5.71 | 21.50 |
| Jerick McKinnon | San Francisco 49ers | 40 | 10.89 | 2.67 | 8.22 | 24.13 |
| Darrell Henderson | Los Angeles Rams | 31 | 10.86 | 1.07 | 9.79 | 23.75 |
| Jamaal Williams | Green Bay Packers | 38 | 10.71 | 2.21 | 8.50 | 23.75 |
| Adrian Peterson | Detroit Lions | 33 | 10.50 | 0.75 | 9.75 | 20.19 |
| Nyheim Hines | Indianapolis Colts | 24 | 10.43 | 4.07 | 6.36 | 25.50 |
| Chase Edmonds | Arizona Cardinals | 30 | 10.21 | 3.50 | 6.71 | 20.88 |
| J.K. Dobbins | Baltimore Ravens | 17 | 10.13 | 1.20 | 8.93 | 22.63 |
| Duke Johnson | Houston Texans | 65 | 9.90 | 2.30 | 7.60 | 15.69 |
| Carlos Hyde | Seattle Seahawks | 54 | 9.70 | 1.60 | 8.10 | 19.63 |
| Gus Edwards | Baltimore Ravens | 28 | 9.56 | 0.56 | 9.00 | 22.63 |
| Zack Moss | Buffalo Bills | 43 | 9.54 | 0.92 | 8.62 | 18.13 |
| Rex Burkhead | New England Patriots | 48 | 9.20 | 2.50 | 6.70 | 21.00 |
| Tony Pollard | Dallas Cowboys | 41 | 8.53 | 1.80 | 6.73 | 22.00 |
| Jordan Wilkins | Indianapolis Colts | 69 | 8.45 | 0.91 | 7.55 | 25.50 |
| Malcolm Brown | Los Angeles Rams | 45 | 8.43 | 1.43 | 7.00 | 23.75 |
| Alexander Mattison | Minnesota Vikings | 50 | 8.38 | 1.00 | 7.38 | 26.88 |
| Benny Snell Jr. | Pittsburgh Steelers | 58 | 8.14 | 0.64 | 7.50 | 19.75 |
| La'Mical Perine | New York Jets | 73 | 8.11 | 1.00 | 7.11 | 17.50 |
| Samaje Perine | Cincinnati Bengals | 66 | 8.00 | 1.11 | 6.89 | 20.63 |
| Brian Hill | Atlanta Falcons | 53 | 7.87 | 1.53 | 6.33 | 22.50 |
| Mark Ingram | Baltimore Ravens | 71 | 7.80 | 0.60 | 7.20 | 22.63 |
| Devontae Booker | Las Vegas Raiders | 55 | 7.50 | 1.07 | 6.43 | 24.50 |
| Peyton Barber | Washington Football Team | 68 | 7.00 | 0.29 | 6.71 | 21.50 |
| Boston Scott | Philadelphia Eagles | 52 | 6.93 | 1.60 | 5.33 | 16.88 |
| Matt Breida | Miami Dolphins | 80 | 6.80 | 0.90 | 5.90 | 18.63 |
| Ito Smith | Atlanta Falcons | 74 | 6.58 | 1.33 | 5.25 | 22.50 |
| Alfred Morris | New York Giants | 78 | 6.44 | 0.33 | 6.11 | 19.25 |
| Kerryon Johnson | Detroit Lions | 67 | 6.09 | 1.36 | 4.73 | 20.19 |
| Darrel Williams | Kansas City Chiefs | 79 | 5.67 | 1.33 | 4.33 | 15.56 |
| Jeremy McNichols | Tennessee Titans | 82 | 5.40 | 0.70 | 4.70 | 28.94 |
| AJ Dillon | Green Bay Packers | 76 | 5.33 | 0.22 | 5.11 | 23.75 |
| Royce Freeman | Denver Broncos | 89 | 4.50 | 1.10 | 3.40 | 23.13 |
| Jalen Richard | Las Vegas Raiders | 81 | 3.90 | 1.70 | 2.20 | 24.50 |
| Anthony McFarland Jr. | Pittsburgh Steelers | 101 | 3.55 | 0.55 | 3.00 | 19.75 |
| Dion Lewis | New York Giants | 77 | 3.55 | 1.00 | 2.55 | 19.25 |
| Kyle Juszczyk | San Francisco 49ers | 60 | 2.89 | 1.11 | 1.78 | 24.13 |
| Ameer Abdullah | Minnesota Vikings | 93 | 1.45 | 0.73 | 0.73 | 26.88 |
Generated by wpDataTables