A running back is as good as his offensive line, only few elite RB can work well behind a bad one. To support an RB Yards Before Contact (YBC) and good running lanes are essential, the rest is one on one situation between the RB and the defense. Lets take a look at the YBC.
Even the best RB can't do anything with the ball, if he hits a linebacker after the handoff. Great example from last year, we saw in the first two games, how Barkely stuggled, and how bad opportunities were created for him. He is a premium RB, but he performed below average.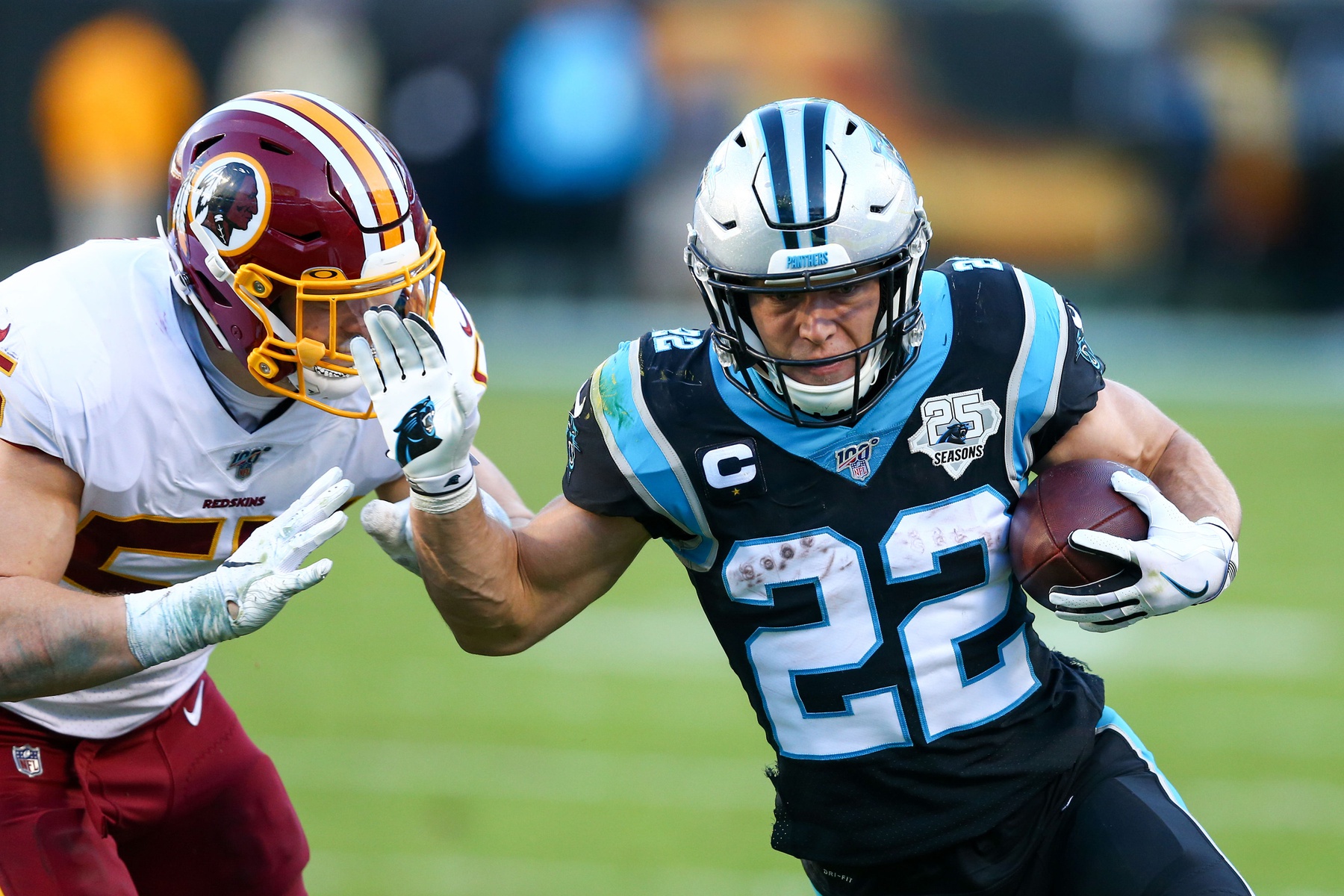 For an RB scrimmage yards before the contact is a great help. But if we take a look at the raw YBC number, it does not really gives us a clear picture. QBs tend to have a high YBC, most if them come after scramble, so after the lines are broken up, they could face empty space on the field. With that being said, teams with QBs, who can run the ball, and/or play more RPO than the average are more likely to have a higher YBC.
Yards before contact in 2020 (QB+RB+other)
Team
Run Attempt
YBC
(YardsBeforeContact)
YBC/Attempt
BAL
555
1866
3.36
ARI
479
1505
3.14
SEA
411
1275
3.1
PHI
432
1330
3.08
NOR
494
1380
2.79
NWE
502
1394
2.78
TEN
521
1419
2.72
KAN
403
1091
2.71
DET
367
975
2.66
HOU
344
914
2.66
NYG
399
1056
2.65
DEN
442
1167
2.64
MIN
468
1215
2.6
LAR
473
1220
2.58
SFO
437
1105
2.53
MIA
428
1075
2.51
GNB
443
1107
2.5
IND
459
1145
2.49
CLE
495
1224
2.47
LVR
457
1076
2.35
CIN
411
924
2.25
JAX
337
756
2.24
WAS
427
954
2.23
CHI
393
865
2.2
LAC
466
1006
2.16
NYJ
406
871
2.15
CAR
407
864
2.12
DAL
430
912
2.12
ATL
409
816
2
BUF
411
794
1.93
PIT
373
711
1.91
TAM
369
683
1.85
If we filter for the RBs only, we will get a new picture. It presents a better understanding of the raw run blocking, and we are able to exclude the QB outliers. Please note this is only a one dimensional tabulation of the data, this does not give us any info on any causality. While evaluating the numbers we need to keep in mind, that a run heavy team performing consistent is as (or more) valuable that being first in the stats. We can see still the teams with a mobile QBs are in the top third on the list (Ravens, Cardinals, etc). Maybe the RPO plays run option showing. Also we can see some committees as well (49ers, Ravens, Patriots, Colts, etc.). In the middle we have a really dense mass, nuances are between the teams. In the bottom third we have some really great RB1s, who really needed to overcome bad offensive lines, or limited QBs (Panthers, Jets, Jags, etc.).
Yards before contact in 2020 (Only RBs)
| | | | |
| --- | --- | --- | --- |
| Csapat | Futás | YBC (YardsBeforeContact) | YBC/futás |
| PHI | 289 | 805 | 2.79 |
| NOR | 370 | 983 | 2.66 |
| NWE | 341 | 900 | 2.64 |
| IND | 409 | 1076 | 2.63 |
| BAL | 363 | 952 | 2.62 |
| DEN | 372 | 948 | 2.55 |
| MIA | 301 | 767 | 2.55 |
| SFO | 396 | 1011 | 2.55 |
| TEN | 463 | 1167 | 2.52 |
| GNB | 381 | 944 | 2.48 |
| DET | 323 | 798 | 2.47 |
| MIN | 432 | 1066 | 2.47 |
| CLE | 423 | 1036 | 2.45 |
| LAR | 384 | 934 | 2.43 |
| ARI | 338 | 810 | 2.4 |
| KAN | 250 | 581 | 2.32 |
| HOU | 252 | 583 | 2.31 |
| SEA | 317 | 729 | 2.3 |
| LAC | 303 | 682 | 2.25 |
| WAS | 374 | 825 | 2.21 |
| LVR | 397 | 841 | 2.12 |
| TAM | 325 | 660 | 2.03 |
| CHI | 270 | 546 | 2.02 |
| ATL | 366 | 723 | 1.98 |
| NYG | 310 | 609 | 1.96 |
| PIT | 322 | 629 | 1.95 |
| JAX | 281 | 542 | 1.93 |
| DAL | 352 | 657 | 1.87 |
| CIN | 332 | 618 | 1.86 |
| BUF | 290 | 515 | 1.78 |
| NYJ | 280 | 465 | 1.66 |
| CAR | 293 | 482 | 1.65 |
More: