It is really hard to see clearly where an RB's effort starts and ends. The offensive line can make an average RB look elite, not just on stats. Therefore the most important part is how the RB can extend plays. Here comes in the picture the Broken Tackle (BT) and the Yards after contact (YACo) metric.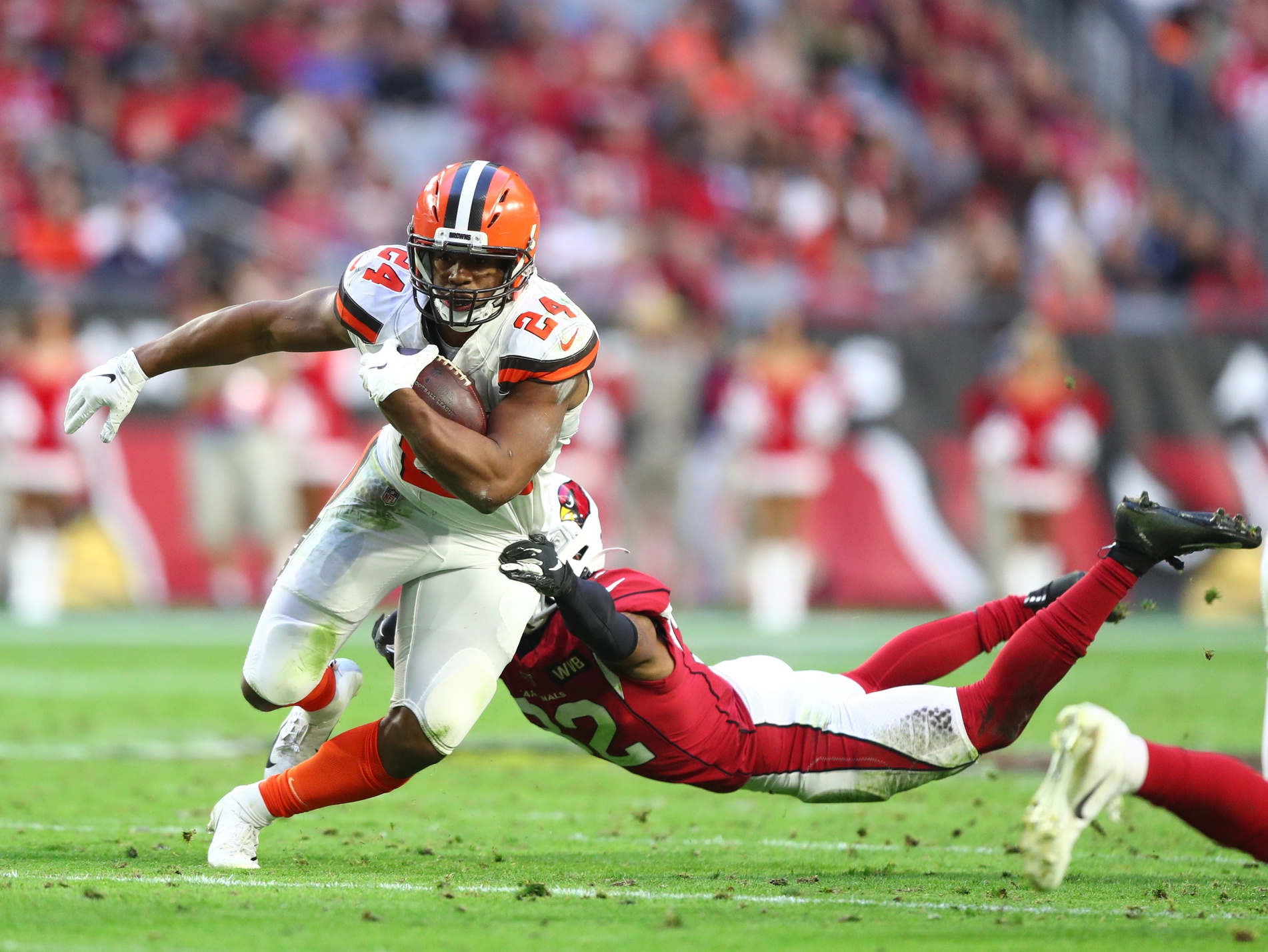 We only take player with more than 50 attempt in 2020. Not a big surprise that Derrick Henry had the most BT, 34. After him comes Cook and Montgomery 33 and 29. Only the raw number are not really telling us a lot. From Christian McCaffrey's attempt (only 59), a 15% had a BT, the second Mike Davis 13% (165 attempt). The Panthers RBs had to face a crowded box, and they were really doing a great job. Worth to mention 12% of David Montgomery's 247 attempts ended with a BTs. This metric can be really high with 3. down backs, and players used in the short yard situation.
The Yards after contact (YACo) is as important among RB as it is in WRs is the Yards after catch. This number is in favour of the 3 down backs, like Derrick Henry, who had an unbelievable 1040 YACo. Although we really have to keep in mind that this metric is really sensitive to outliers, like breakaway runs. The average YACo is greater than Henry's (2,75 yard) for Singletary, Dobbins, Aaron Jones and Ronald Jones. So typically RBs from teams with a lot of RPO play and great passing QBs are more likely to have higher YACo.
Interesting to see that with this metrics, it is really easy to understand why teams like the Falcons, Bills or Washington is satisfied with the RBs in the squad.
BT/YACo
| YYYY | PLAYER | Broken Tackle | Attempt | Yards after Contact | Broken Tackle/Attempt (%) | YACo/Attempt |
| --- | --- | --- | --- | --- | --- | --- |
| 2020 | Derrick Henry | 34 | 378 | 1,040 | 8.99 | 2.75 |
| 2020 | Dalvin Cook | 33 | 312 | 756 | 10.58 | 2.42 |
| 2020 | David Montgomery | 29 | 247 | 590 | 11.74 | 2.39 |
| 2020 | Antonio Gibson | 22 | 189 | 374 | 11.64 | 1.98 |
| 2020 | Mike Davis | 21 | 165 | 398 | 12.73 | 2.41 |
| 2020 | Nick Chubb | 21 | 190 | 511 | 11.05 | 2.69 |
| 2020 | Josh Jacobs | 20 | 273 | 540 | 7.33 | 1.98 |
| 2020 | Alvin Kamara | 19 | 187 | 406 | 10.16 | 2.17 |
| 2020 | Todd Gurley | 19 | 195 | 349 | 9.74 | 1.79 |
| 2020 | Kareem Hunt | 18 | 198 | 465 | 9.09 | 2.35 |
| 2020 | James Conner | 17 | 169 | 336 | 10.06 | 1.99 |
| 2020 | Melvin Gordon | 16 | 215 | 456 | 7.44 | 2.12 |
| 2020 | Kenyan Drake | 16 | 239 | 406 | 6.69 | 1.70 |
| 2020 | James Robinson | 16 | 240 | 615 | 6.67 | 2.56 |
| 2020 | Clyde Edwards-Helaire | 15 | 181 | 384 | 8.29 | 2.12 |
| 2020 | Jonathan Taylor | 15 | 232 | 479 | 6.47 | 2.06 |
| 2020 | Ezekiel Elliott | 15 | 244 | 521 | 6.15 | 2.14 |
| 2020 | Aaron Jones | 14 | 201 | 592 | 6.97 | 2.95 |
| 2020 | Zack Moss | 13 | 112 | 274 | 11.61 | 2.45 |
| 2020 | Austin Ekeler | 13 | 116 | 257 | 11.21 | 2.22 |
| 2020 | Damien Harris | 12 | 137 | 262 | 8.76 | 1.91 |
| 2020 | Gus Edwards | 11 | 144 | 389 | 7.64 | 2.70 |
| 2020 | Adrian Peterson | 11 | 156 | 258 | 7.05 | 1.65 |
| 2020 | Jordan Wilkins | 10 | 84 | 160 | 11.90 | 1.90 |
| 2020 | J.D. McKissic | 10 | 87 | 187 | 11.49 | 2.15 |
| 2020 | Boston Scott | 10 | 95 | 172 | 10.53 | 1.81 |
| 2020 | Alexander Mattison | 10 | 96 | 230 | 10.42 | 2.40 |
| 2020 | Chase Edmonds | 10 | 97 | 187 | 10.31 | 1.93 |
| 2020 | Chris Carson | 10 | 141 | 306 | 7.09 | 2.17 |
| 2020 | Wayne Gallman | 10 | 147 | 362 | 6.80 | 2.46 |
| 2020 | Ronald Jones II | 10 | 192 | 572 | 5.21 | 2.98 |
| 2020 | Christian McCaffrey | 9 | 59 | 128 | 15.25 | 2.17 |
| 2020 | Sony Michel | 9 | 79 | 285 | 11.39 | 3.61 |
| 2020 | Le'Veon Bell | 9 | 82 | 165 | 10.98 | 2.01 |
| 2020 | D'Andre Swift | 9 | 114 | 190 | 7.89 | 1.67 |
| 2020 | Jeff Wilson | 9 | 126 | 273 | 7.14 | 2.17 |
| 2020 | Devin Singletary | 9 | 156 | 449 | 5.77 | 2.88 |
| 2020 | Miles Sanders | 9 | 164 | 370 | 5.49 | 2.26 |
| 2020 | Nyheim Hines | 8 | 89 | 156 | 8.99 | 1.75 |
| 2020 | Tony Pollard | 8 | 101 | 249 | 7.92 | 2.47 |
| 2020 | Giovani Bernard | 8 | 124 | 227 | 6.45 | 1.83 |
| 2020 | Darrell Henderson | 8 | 138 | 282 | 5.80 | 2.04 |
| 2020 | Lamar Jackson | 8 | 159 | 205 | 5.03 | 1.29 |
| 2020 | Frank Gore | 8 | 187 | 374 | 4.28 | 2.00 |
| 2020 | Deshaun Watson | 7 | 90 | 113 | 7.78 | 1.26 |
| 2020 | Malcolm Brown | 7 | 101 | 148 | 6.93 | 1.47 |
| 2020 | Joshua Kelley | 7 | 111 | 170 | 6.31 | 1.53 |
| 2020 | J.K. Dobbins | 7 | 134 | 394 | 5.22 | 2.94 |
| 2020 | David Johnson | 7 | 147 | 289 | 4.76 | 1.97 |
| 2020 | Cordarrelle Patterson | 6 | 64 | 96 | 9.38 | 1.50 |
| 2020 | Mark Ingram | 6 | 72 | 126 | 8.33 | 1.75 |
| 2020 | Brian Hill | 6 | 100 | 257 | 6.00 | 2.57 |
| 2020 | Benny Snell Jr. | 6 | 111 | 208 | 5.41 | 1.87 |
| 2020 | Myles Gaskin | 6 | 142 | 287 | 4.23 | 2.02 |
| 2020 | Cam Akers | 6 | 145 | 304 | 4.14 | 2.10 |
| 2020 | Samaje Perine | 5 | 63 | 152 | 7.94 | 2.41 |
| 2020 | Rex Burkhead | 5 | 67 | 96 | 7.46 | 1.43 |
| 2020 | Jalen Hurts | 5 | 71 | 73 | 7.04 | 1.03 |
| 2020 | Duke Johnson | 5 | 77 | 116 | 6.49 | 1.51 |
| 2020 | Devontae Booker | 5 | 93 | 187 | 5.38 | 2.01 |
| 2020 | Raheem Mostert | 5 | 104 | 175 | 4.81 | 1.68 |
| 2020 | Phillip Lindsay | 5 | 118 | 186 | 4.24 | 1.58 |
| 2020 | Jamaal Williams | 5 | 119 | 228 | 4.20 | 1.92 |
| 2020 | Kyler Murray | 5 | 133 | 128 | 3.76 | 0.96 |
| 2020 | Carson Wentz | 4 | 52 | 126 | 7.69 | 2.42 |
| 2020 | Salvon Ahmed | 4 | 75 | 74 | 5.33 | 0.99 |
| 2020 | Carlos Hyde | 4 | 81 | 184 | 4.94 | 2.27 |
| 2020 | Kalen Ballage | 4 | 91 | 146 | 4.40 | 1.60 |
| 2020 | Peyton Barber | 4 | 98 | 117 | 4.08 | 1.19 |
| 2020 | Josh Allen | 4 | 102 | 134 | 3.92 | 1.31 |
| 2020 | Cam Newton | 4 | 137 | 181 | 2.92 | 1.32 |
| 2020 | Latavius Murray | 4 | 146 | 293 | 2.74 | 2.01 |
| 2020 | Kerryon Johnson | 3 | 52 | 65 | 5.77 | 1.25 |
| 2020 | Teddy Bridgewater | 3 | 53 | 59 | 5.66 | 1.11 |
| 2020 | Alfred Morris | 3 | 55 | 123 | 5.45 | 2.24 |
| 2020 | Jerick McKinnon | 3 | 81 | 128 | 3.70 | 1.58 |
| 2020 | Taysom Hill | 3 | 87 | 101 | 3.45 | 1.16 |
| 2020 | Joe Mixon | 3 | 119 | 202 | 2.52 | 1.70 |
| 2020 | Devonta Freeman | 2 | 54 | 68 | 3.70 | 1.26 |
| 2020 | Justin Herbert | 2 | 55 | 57 | 3.64 | 1.04 |
| 2020 | Matt Breida | 2 | 59 | 92 | 3.39 | 1.56 |
| 2020 | Justin Jackson | 2 | 59 | 96 | 3.39 | 1.63 |
| 2020 | Patrick Mahomes | 2 | 62 | 47 | 3.23 | 0.76 |
| 2020 | Ito Smith | 2 | 63 | 86 | 3.17 | 1.37 |
| 2020 | La'Mical Perine | 2 | 64 | 100 | 3.13 | 1.56 |
| 2020 | Ty Johnson | 1 | 54 | 99 | 1.85 | 1.83 |
| 2020 | Daniel Jones | 1 | 65 | 48 | 1.54 | 0.74 |
| 2020 | Russell Wilson | 0 | 83 | 24 | 0.00 | 0.29 |
| 2020 | Leonard Fournette | 0 | 97 | 198 | 0.00 | 2.04 |
| 2020 | Jared Goff | 0 | 51 | 6 | 0.00 | 0.12 |
| 2020 | Baker Mayfield | 0 | 54 | 21 | 0.00 | 0.39 |
Generated by wpDataTables